Share This Story, Choose Your Platform!
Ozone as Sanitizer in Food Processing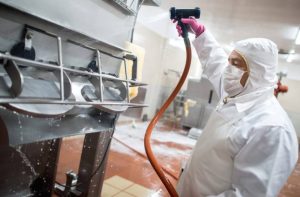 Chlorine has traditionally been used in the food industry to control microbial growth on processing equipment and wash water. Fresh-cut produce is often treated with chlorine to extend its shelf life and reduce the risk of foodborne illness. However, chlorination may produce toxic and carcinogenic chlorinated organic compounds in water.
Ozone is a universal disinfectant that reacts with contaminants. In fact, It suppresses undesirable odors and destroys molds, bacteria, and viruses. The USDA and FDA have granted GRAS approval for ozone for direct contact with food products, including all meat and poultry products.
Depending on what type of food needs treatment and ozone demand there are two forms of ozone: gaseous and aqueous.
It is faster and more effective at killing microbes than chlorine.
Longer shelf life
Allow recycling process water
Water and energy efficiency
Ozone is suitable for food processing that follows organic standards.
It does not leave residues in food or water.
OZONE GENERATOR FOR FRUIT AND VEGETABLE WASHING
Fresh produce and minimally processed fresh-cut products are likely to contain microorganisms. In addition, fungicides, pesticides, and other chemicals used in farming can contaminate food. A simple washing is not sufficient to remove these chemicals. The industry needs to remove contamination to prolong the shelf life of fresh fruits and vegetables and make them safe for sale or further processing. Chlorine is the primary sanitizing agent used in fruit and vegetable washing. However, chloride produces residual by-products such as Trihalomethane. Also, it does not prevent the chemical from accumulating on surfaces. Thermal processing methods are used to inhibit pathogens. This technology, however, affects the quality of foods such as loss of original flavour, taste, appearance, color, nutritional quality, etc.
Studies have shown that treatment with ozone extends the storage life of fresh commodities by reducing microbial populations and oxide chemicals. The interest in ozone has increased in recent years because of consumer demand for 'greener' food additives, regulatory approval, and a growing acceptance that ozone is an environmentally friendly technology.
more information about ozone in food application here
Contact us now for more information
Share This Story, Choose Your Platform!