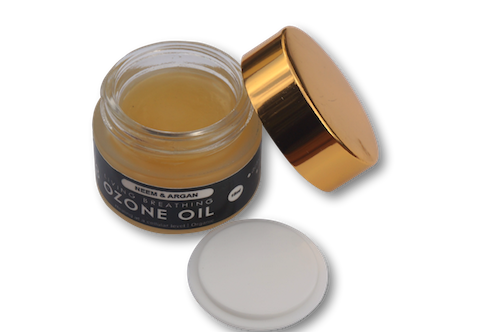 KEY FEATURES:
Fastest Reaction Times (using high concentration ozone)
No downtime due to high-quality design and no maintenance required
Free Professional Technical Support – Our engineers will recommend the correct sized equipment for your ozonated olive oil application and provide free technical assistance with system design and implementation to ensure the success of your project
The overuse of antibiotics and antifungals in the treatment of infectious diseases has led to the development of antibiotic resistance. As a result, it is necessary to develop new natural products with pharmacological properties to treat several infections and skin conditions. Ozonized oil is one of the most valuable products for our health, which has higher antimicrobial activity and a higher peroxide index. The most prominent type of used oil is extra virgin olive oil or cold-pressed olive oil. But still, each type of unsaturated oil may be used for ozonation.
The ozonation process causes changes in the chemical composition of the oil giving new biological properties to the olive oil. It is amazing how patients who were unable to treat wounds with antibiotics were able to heal their wounds with ozonized olive. What is the secret? Ozonated olive oil has antibacterial properties and destroys, fungi, and other pathogens sterilizing the wound. Also, stimulates the healing process, which no antibiotic can achieve.
Doctors and therapists use ozonated oil to treat a variety of skin problems, such as dermatitis, acne, pressure ulcers, skin irritation, sensitive skin, and skin wounds, skin insect bites. As well as in skin care for moisturizing facial conditioner, after laser therapy, surgery, and sunburn for stimulation of the growth of skin cells and for many skin conditions. Ozone oils are a natural remedies Sore muscles. It is also a good therapeutic agent in the treatment of asthma, gastrointestinal ulcers, and intestinal infections.
A BRIEF HISTORY OF A NATURAL HEALTH REMEDY
Shortly after patenting his first ozone generator, Nikola Tesla (in 1900) began marketing an ozonated olive oil to medical doctors. Nikola Tesla created ozonated oil by bubbling ozone through olive oil in the presence of a magnetic field for weeks. In essence, what is occurring is a catalytic reaction that actually burns the olive oil. One of the resultant compounds is C10H18O3, with a hydrogen and carbon complex. By 1904, ozonated olive oil, also known as Glycozone, began appearing in medical literature, such as "The Medical Uses of Hydrozone and Glycozone", 9th Edition, by New York Chemist Charles Marchland.
HOW TO OZONATE OLIVE OIL
The efficient method to is to add solvent to the oil. This will make it easier to pump the oil through the ozone injection Venturi system, accelerating the reaction and allowing complete ozonation of the oil. We do not recommend bubbling ozone through oil (unless a very small amount is being treated) because it is inefficient and the reaction could take days or even weeks. In addition, it is possible to spark a fire or explode if you mix oil and concentrated ozone improperly. To be effective, it's therefore imperative that safety protocols and procedures are established.
It is important to choose a high-concentration ozone generator with adjustable ozone output, timer function, and automatic shut-off, and use an ultra-pure oxygen source for efficient ozonation of olive oil. When a few gallons of oil require treatment, Absolute Ozone® ATLAS 30 or even NANO 15 Industrial ozone generator produces ultra-pure ozone and you will be able to get desired results efficiently and cost-effectively.
Because of the high concentration of the Absolute Ozone® Generators, you will have a fast reaction. So, you will save a lot of time and money in the process.
HOW LONG SHOULD OLIVE OIL BE OZONATED FOR?
The time depends on each particular process, for example for a bubbling ozone system, the average time is approximately 2-3 days. The industry has a much shorter time because uses the redox technique to prepare Ozonized oil, the ozonation process generally takes between 10-30 minutes. The ozone literally burns the oil, resulting in three primary organic peroxides. In other words, the first peroxide formed reacts until forms C10H18O3. The final stage is visible, as everything transforms into a clear gel. While some people believe that fully ozonated oils are ozone carriers, it is not, ozonated olive oil will only retain ozone gas for a short time.
OZONATED OLIVE OIL BENEFITS
Ozonated olive oil may have several health benefits, but it should be discussed with a healthcare professional before being used as a treatment. The following are some of the benefits of ozonated olive oil:
Ozonated olive oil has strong antimicrobial properties that are effective against bacteria, viruses, and fungi. This makes it useful for treating skin infections, wound healing, and other conditions related to the skin. Also, Ozonated olive oil can be used as toothpaste or mouthwash to help lessen the number of dangerous bacteria in the mouth.
Ozonated olive oil soothes and heals skin issues, which is why it is commonly used in skincare products. Additionally, a number of inflammation-related conditions, including arthritis, eczema, and psoriasis, can be alleviated by this product.
Enhanced immune function: Some studies suggest that ozonated olive oil can help to enhance the function of the immune system. This can help the body to fight infections and diseases more effectively.
Contact us now, We will guide you every step of the way to ensure great success with your ozone olive oil application. We will happy to provide you with technical assistance for your project.